Portable Camping Toilets

Do you require a toilet, but don't have access to drainage or a water system? Then a portable camping toilet from MGD Products could be just what you need. Our flushing portable toilets offer the same comfort and convenience as a regular fitted toilet without the hassle of plumbing. Wherever you are and whatever you are doing, your portable toilet is close at hand.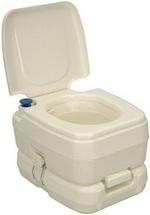 All our portable chemical toilets are hygienic fresh and due to the freshwater flushing system there are no unpleasant odours.
The portable toilet units are built from high quality plastic that are durable, hygienic and easy to clean. The portable toilets consist of two halves that can be easily taken apart and put together again. The bottom half is the waste tank and the top half is a combined freshwater flush tank and seating bowl. The powerfully efficient freshwater flush cleans the toilet bowl effectively.
All our portable chemical toilets have a integrated swivelling pour out spout and a pressure release button to ensure splash free emptying of the waste holding tank. In addition, some of our portable toilets also include a level indicator which allows you to see when the holding tank is nearly full.
Our portable toilets are most commonly used amongst the camping fraternity and are considered the number one and most reliable choice. They also offer a more pleasant and dignified option than a typical commode as well as many other uses.
To view our range of Dometic, Thetford & Fiamma click here: Portable Toilets

Dometic 966 Portable Toilet

This high quality portable camping toilet has a 19 litre holding fresh water tank and due to the innovative product design offers powerful flushing with less pumping as well as splash-free operation and discharge. It has an easy to use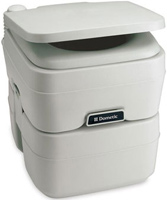 push-button operation and is just as convenient as a household toilet.
The sturdy Dometic 966 family size offers the user extreme efficiency and hygiene through the powerful piston pump which allows up to an amazing 26 flushes per water fill with a 19L fresh water tank. They are very robust and have a modern design with a hard wearing ABS quality shiny surface. To purchase click here: Dometic 966 portable toilet
Other features of the Dometic toilet include:
Highly portable compact chemical toilet from Dometic
Splash-free emptying with tank vents
Tank level indicator and pressure relief valve increase safety
Comfort like at home with adult-sized seat and lid
Scratch resistant finish is easy to keep clean and looks new for years
Extra strong 360° manual flush ensures effective cleaning
One piece waste tank with integrated spout that doesn't leak
Quality double sealed valves stops both leaks and odours
Toilet can be used up to 50 times before waste tank requires emptying
Up to 29 flushes per water fill with 9.8 litre fresh water tank


Fiamma Bi-Pot® Portable Toilets

These sturdy Fiamma Bi-Pot portable toilets with a scratch resistant tank are easy to transport and empty and because the tanks are not welded can support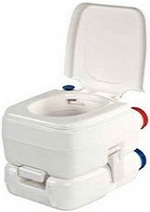 twice as much weight as other models.
Within this range we are also pleased to offer a smaller portable toilet, the Bi-Pot 30 which is ideal for those smaller locations that require a chemical toilet to be installed i.e. compartment lockers or chests and is the perfect choice for mini vans and boats. To purchase click here: Fiamma Bi-Pot portable toilets
Other features of the Bi-Pot include:
Convenient flush of fresh water, without separating the tanks
Air valve, inserted into the waste cap
Lowest portable toilet waste tank capacity is just 11 litres
Large waste cap, no drainpipe, no clogging
Each tank is electronically tested for a perfect seal
Handy side clips to connect the upper and lower tanks


Thetford Porta Potti Portable Toilets

Thetford have been offering portable toilet and mobile sanitation solutions for more than 35 years. The Thetford Porta Potti is vey popular model where mobile toilets are concerned and offers optimal sanitation and hygiene wherever you are. The range of Thetford Porta Potti portable toilets offer quality, durability, very low water use and reliability and their superior practical features come as standard.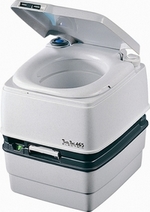 The Thetford Porta Potti portable toilet comes with an integrated pour-out spout and spare parts are available for at least 10 years after a model ceases to be part of the range. Thetford sanitation products are available to ensure an effective operation of the toilet system and to offer an optimum performance. The Thetford Porta Potti is available in different sizes and colours and there is a Thetford portable toilet available to suit any type or size of caravan, motorhome, tent, boat or holiday chalet. The Thetford Porta Potti's are very useful for the disabled and elderly or for when you experience a plumbing disaster or other emergency situations. To purchase click here: Thetford Porta Potti portable toilets
Other features of the Thetford Porta Potti include:
Natural seating height
Waste level indicator
Integrated pour-out-spout
Portable toilet waste tank capacity's from 10L
Freshwater tank capacity's from just 15L
Powerful manual flush & electric flush options
White or light grey finish

Portable Toilet Chemicals
Portable toilet chemicals assist the suppression of odours and ensure the efficient hygienic operation of portable chemical toilets. MGD Products give customers the option of purchasing a Blue Aqua Pack along with their toilets at a very competitive price. The optional Blue Aqua Pack supplied along with our portable toilets consists of 1L Aqua Kem Blue fluid which quickly breaks down waste, 400ml Aqua Rinse fluid that keeps water fresh whilst ensuring a smoother flush and four rolls of the fast dissolving Aqua Soft Paper. To purchase along with your portable toilet please select from the accessories before adding your chosen toilet to the basket.
Frequently Asked Questions
Which portable toilet should I choose?
We only supply portable toilets from the three leading suppliers Dometic, Fiamma and Thetford. These suppliers all offer portable toilets that are manufactured to a very high standard and are very robust and easy to use. In reality there is little to choose between the three different brands and therefore the main consideration is the size of your toilet. For specific requirements and further information on a specific toilet from any of the ranges please see our full range here: Portable Toilets
What do the portable toilet chemicals actually do?
There are additives for both the waste holding tank and the flushwater tank along with general maintenance products. The Thetford Porta Potti, Fiamma or Dometic 966 portable toilet all utilise two main chemicals, one for the bottom waste tank and also flushing fluid which is added to the flushing water top tank. The waste tank chemical is preferred by most users with the majority opting for the Aqua Kem Blue. The top tank additive Aqua Rinse adds a nice smell to the flushing water and leaves a protective film in the toilet bowl after flushing which makes for a more pleasant experience, though not essential it is preferred by the majority of users.
Do I need to use special toilet rolls?
You do not need to use special toilet paper as long as you don't allow the bottom tank to fill up. However, the dissolvable toilet paper breaks down much quicker than regular toilet paper and should be used if you are considering allowing the bottom tank to fill up. Emptying the toilet can be done into a regular toilet, however please be aware that emptying a full tank into a toilet should be done with caution since there is a possibility of causing a blockage.
How long does delivery of the portable toilets take?
All the Dometic, Fiamma and Thetford portable toilets and chemicals are stock items with free next working day delivery available or free delivery on the date you specify. For next working day delivery portable toilets need to be ordered before 2pm Monday to Friday. Any orders placed at weekends or Bank Holidays will be dispatched the next available working day.